news coverage of wjp packaging from Tweakers
ComputeX 2023| More than just technology
The Showcasing of Taiwan's Sustainability.
As the recently concluded ComputeX generated waves of excitement both domestically and internationally, WJP Packaging was fortunate to receive visits and attention from various parties.
Medias from different countries visiting Taiwan not only anticipated seeing impressive technological products but also showed concern about whether Taiwan's technology industry is ready to align with international standards in various environmental indicators.
In Tweakers' "ComputeX 2023 Recap," the reporter shares his observation of sustainability on Computex Taipei. Tweakers is a well-known technology forum, and the most influential computer and electronics review website in the Netherlands. Every year, they fly to Taiwan to attend ComputeX and produces a series of related reports.
In this year's thematic coverage, they specifically highlighted the issue of sustainability, stating that ComputeX is gradually moving towards sustainable development.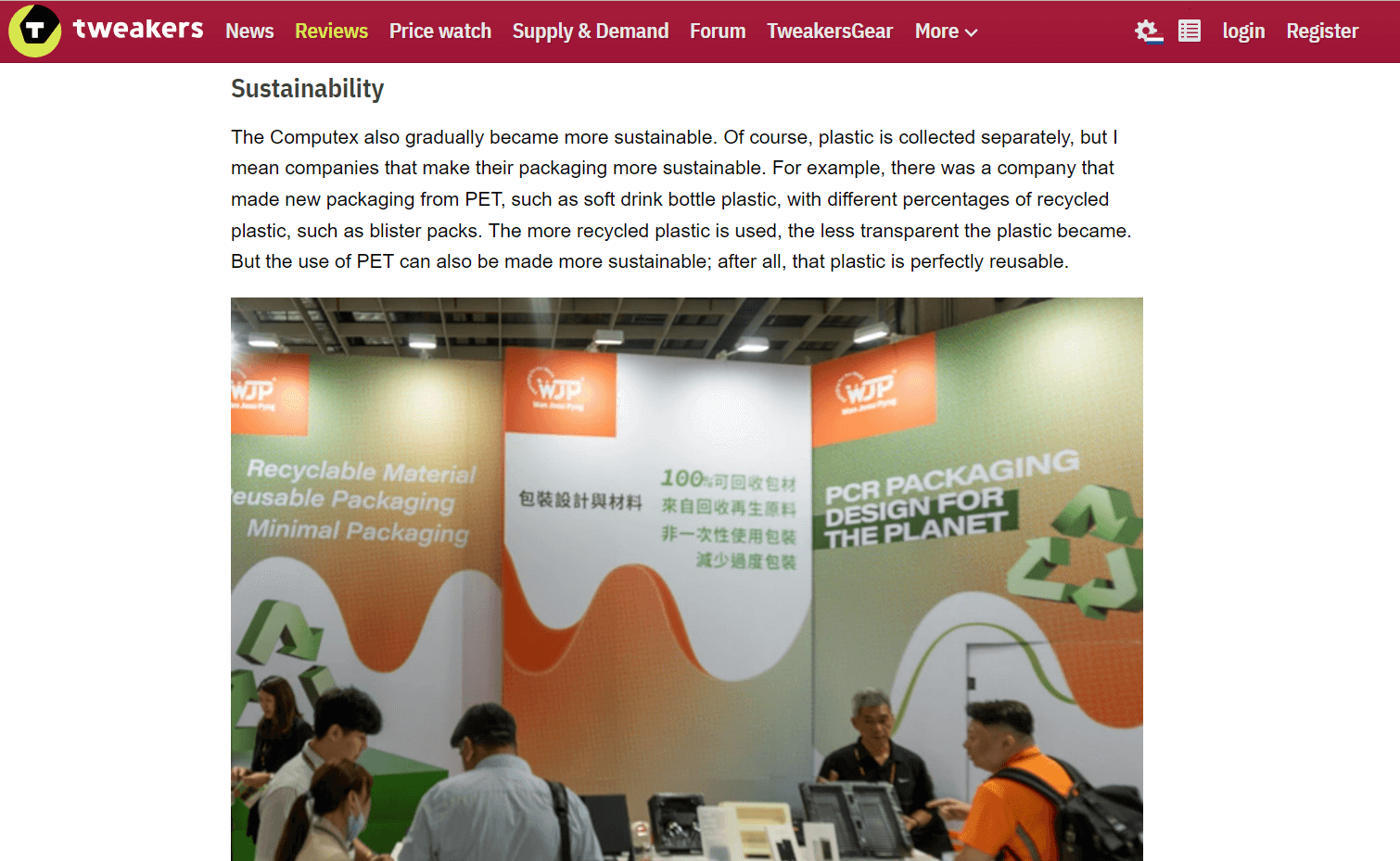 — "Plastic recycling is certainly not a new concept. But I'm referring to those companies that incorporate sustainability concepts into their packaging." (Extracted from Willem de Moor's report on Tweakers)
— "For example, this company (WJP Packaging) can design packaging with recycled PET, from the resource such as PET bottles from beverages. By incorporating recycled materials, they can produce recycled plastic (rPET) packaging in various proportions, such as blister packaging…"
— "Using PET can also create sustainable value since these plastics can be perfectly reused."
In addition to the images of WJP Packaging's booth, the article clearly shows prominent messages on the WJP Packaging backdrop board, such as "100% recyclable packaging" and "Made from recycled materials."
Green energy development (Sustainability) – the only trend specifically mentioned by Tweakers among the six official themes.
Furthermore, the author of the article also introduced other interesting technological innovations showcased at the event, such as manufacturers' concerns in finding alternatives for foam protective packaging, the rise of wireless cooling fans, and the emergence of various information display screens on computer components. If you're interested, you can click the link below to read the full article report.
*Report source:【Terugblik Computex 2023 Trends op componentenvlak】(Dutch)
*English Report:【Review Computex 2023 – Background】(EN)

How many years have WJP Packaging participated in the computex?
WJP Packaging have participated in the fair for the Thirteenth Consecutive Year consecutive years since 2010.
What can we help for sustainable packaging?
We provide various low carbon emission material for your unique packaging design, to make sure your packaging stay with the fast coming new evironmental registration.