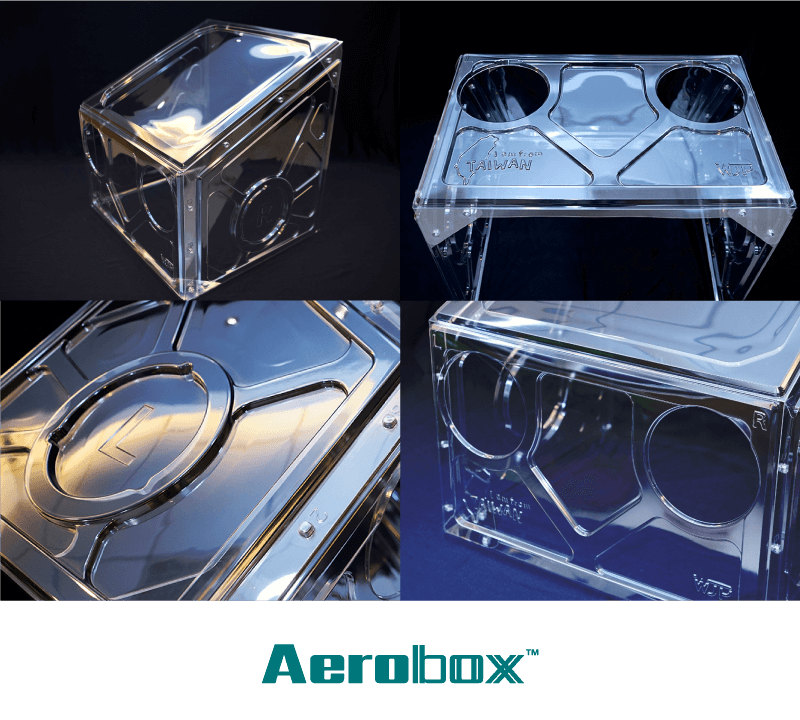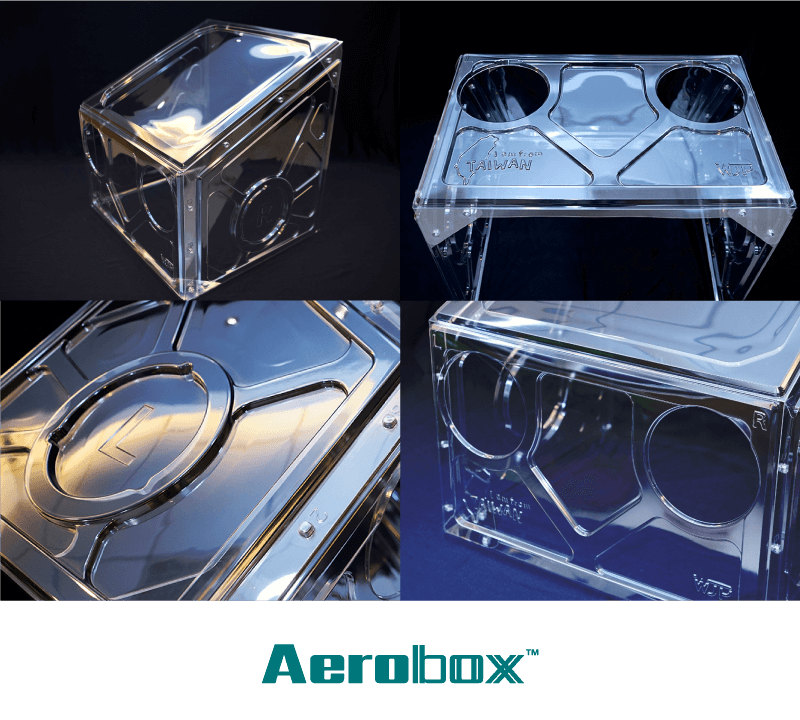 Product Name:AeroBox (Disposable aerosol block box)
Material:PET
Size before assembly (cm):106*60*1 cm
Size after assembly (cm):54*55*48cm
Packaging:5 Sets / Carton
Carton Size:91.2*21.8*60.6 cm
Carton N.W.:4.3 kg / Carton G.W.:6.2 kg
12 Cartons per pallet=2 cartons*6 piles
Total 147 cm in height for Air shippment
Pallet size:L124*W94* H140cm
MOQ:1 Pallet=12 cartons=60 sets of Taiwan Box
AEROBOX is a patneted product.
R.O.C. PATENT NO: M599663
AEROBOX obtained U.S. FDA Approval.
Proprietary Name: Aero Box model V1
Owner:WAN JEOU PYNG PLASTICS INDUSTRY CO., LTD.
Owner number:10076987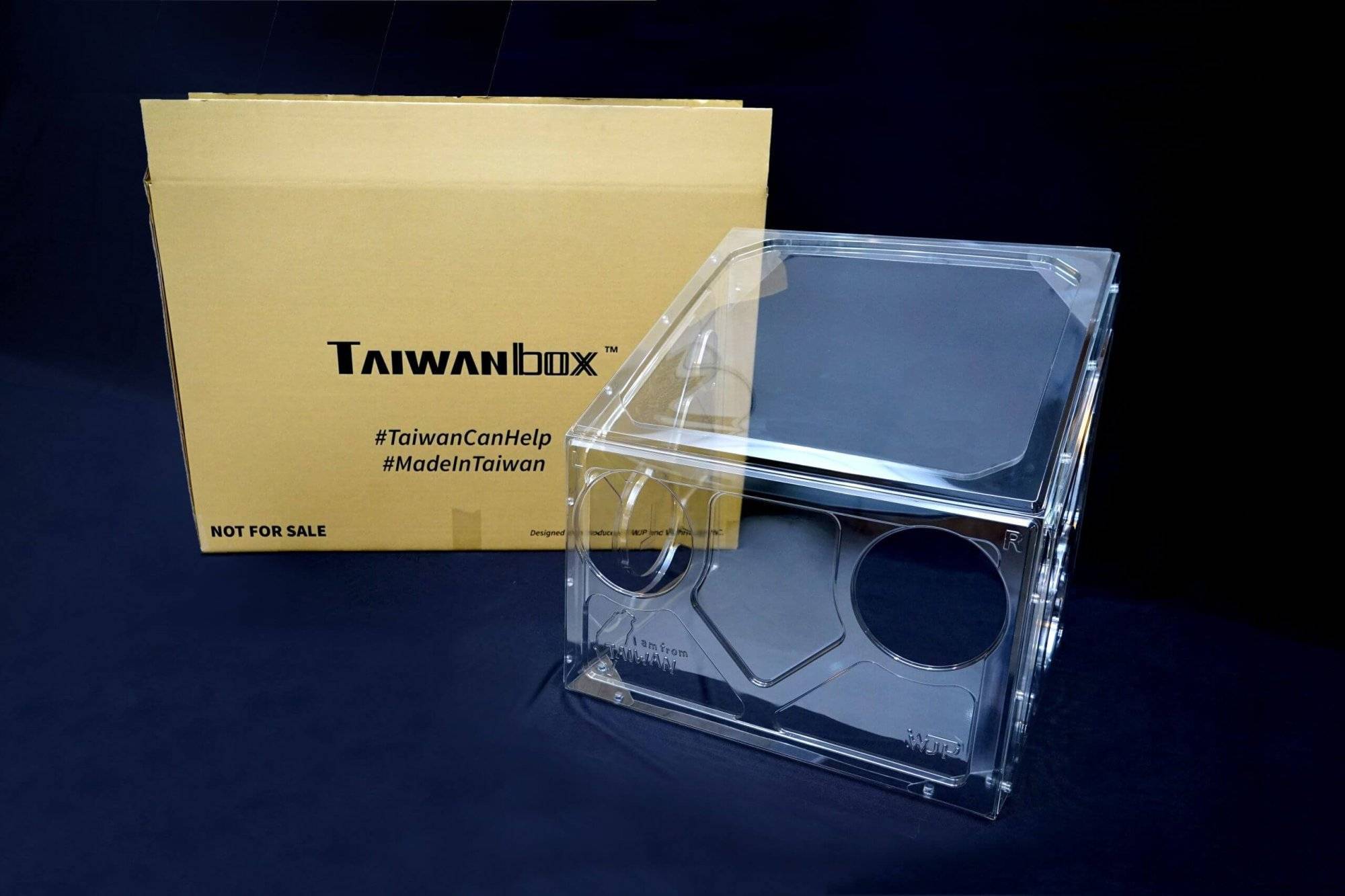 A Desire
To Better Protect Healthcare Workers
With the recent global outbreak of COVID-19, many infected patients develop respiratory failure requiring endotracheal intubation. Since COVID-19 is transmitted via droplets and aerosol, healthcare providers who are intubating these patients are at high risk of contracting this deadly virus during the intubation process.
Ideally the provider should wear PAPRs (powered air-purifying respirators) while intubating patients, which would provide the highest level of protection. Unfortunately, due to the soaring number of infected patients in this pandemic, there is a shortage of PAPRs around the world.
To protect healthcare providers from this virus during the intubation process, Dr. Hsien Yung Lai, an anesthesiologist from Mennonite Christian Hospital in Hua Lian, Taiwan, has designed the AEROBOX that effectively shields a provider's face from a patient's airway, while allowing the provider to move his/her arms freely to perform all necessary tasks during endotracheal intubation.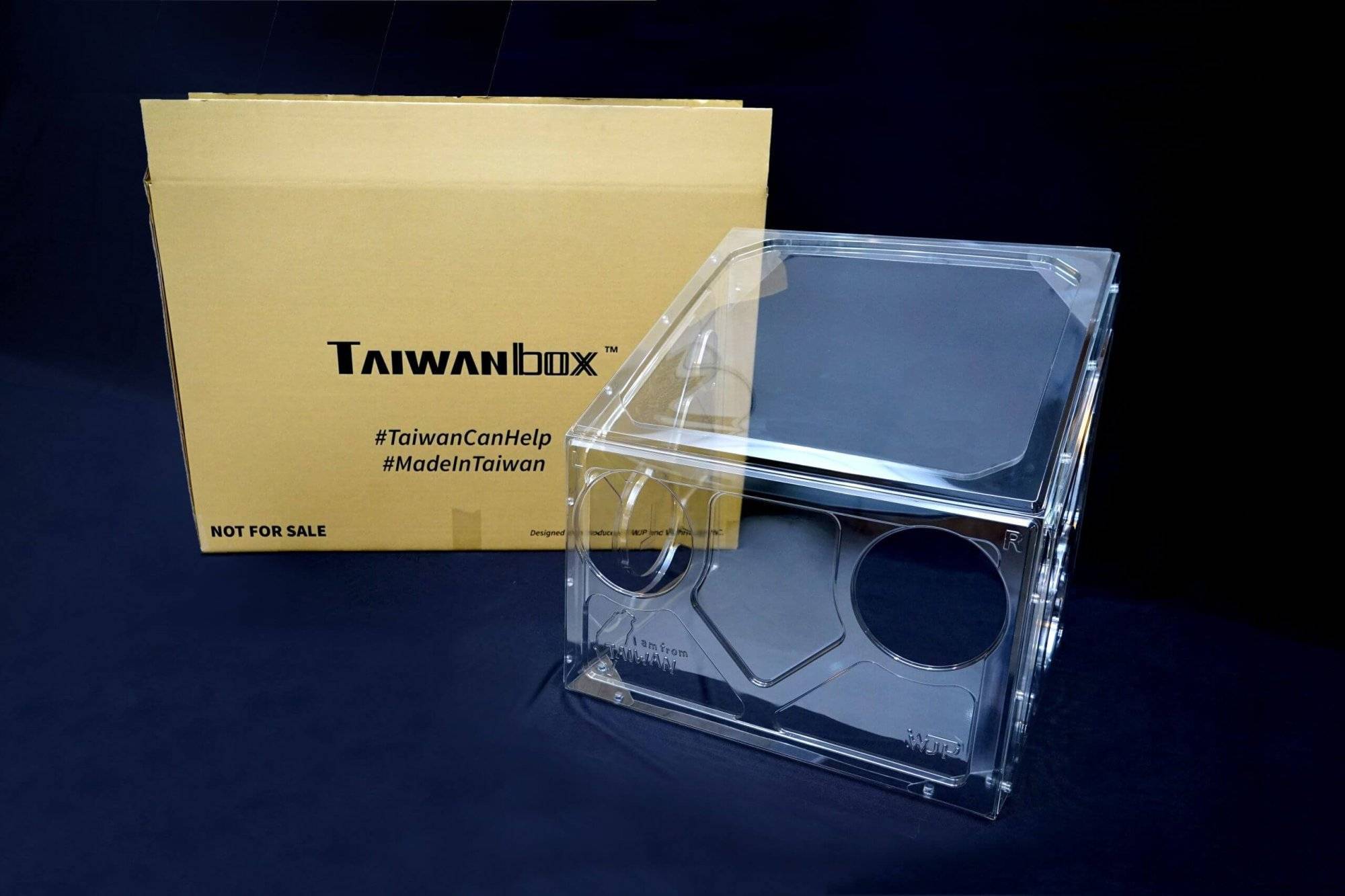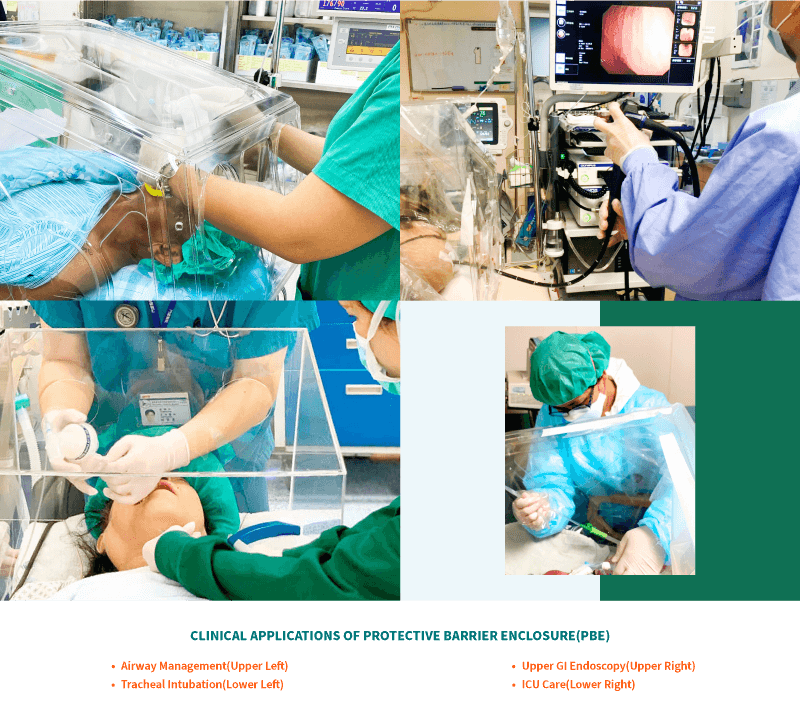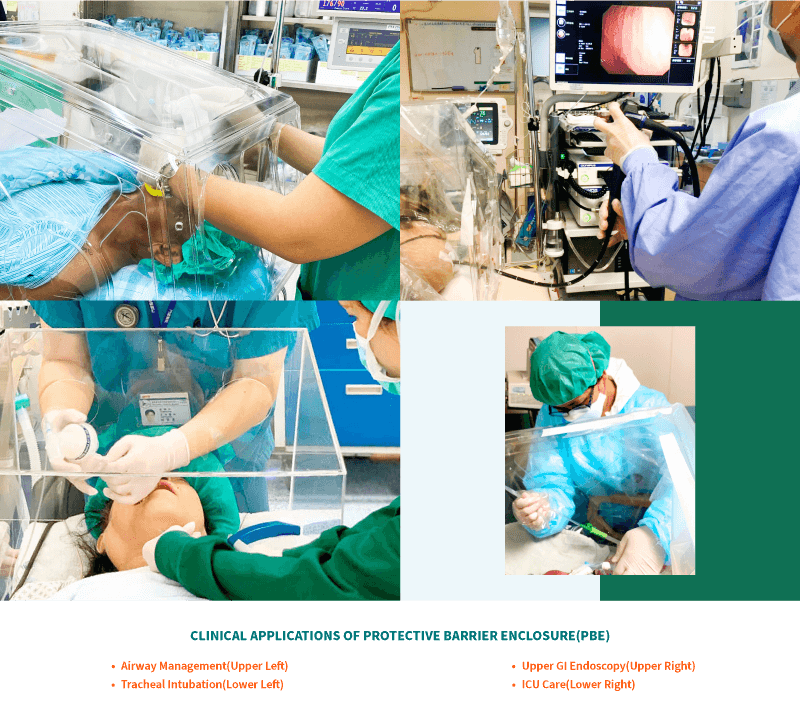 AERO BOX is an adjunctive protective barrier designed to mitigate the risk to HCP.

The AERO BOX is not meant to be a stand-alone unit of PPE.

AERO BOX should always be used with appropriate PPE and pursuant to the guidance of your institution.

AERO Box is transparent and provides a clear, unobstructed view of the procedure field. It is used as a physical barrier and can be used by HCPs in situations including, but not limited to, airway management (e.g., intubation, extubation, and suctioning of airways) and any aerosol generating procedures (e.g., nebulizer treatments, manipulation of oxygen mask or Bilevel Positive Airway Pressure (BiPAP) mask).

It provides an additional layer of barrier protection in addition to Personal Protective Equipment (PPE) against airborne particles or droplets from the patients.

AERO BOX may also have a role in upper GI endoscopy examination, dental procedures and the intra-hospital transfer of COVID-19 ventilated and non-ventilated patients, and in the cleaning of highly contaminated equipment.
This device is NOT intended to replace Personal Protective Equipment (PPE).

Inspect the AERO BOX prior to use. The healthcare facility must not use on patients and must dispose of AERO BOX if any damage of packaging box, or any wear/ tear and other signs of degradation on the AERO BOX is observed.

This device does NOT include fans, air filters, or other features and is NOT intended to generate negative pressure.

HCP shall always wear gloves and personal protective equipment when assembling and disassembling the device.

DO NOT REUSE. This device is provided non-sterile and designed for single use only. It is not intended to be clean or disinfect in any method.

The patient shall be assessed for respiratory status and difficult airway prior device use.

This product shall be removed if it impedes ability to care for a patient or communicate with the patient or impedes the ability to perform a medical procedure on a patient.

This product does not contain any drug, antimicrobial agent, or nano particles.

Flammability of the device has not been tested. No interventions that could create a spark or be a flammable source should be used within the device.

This product does not contain or combine any materials that would cause flammability.

Handle device with care. Do not drop, strike or place heavy object on.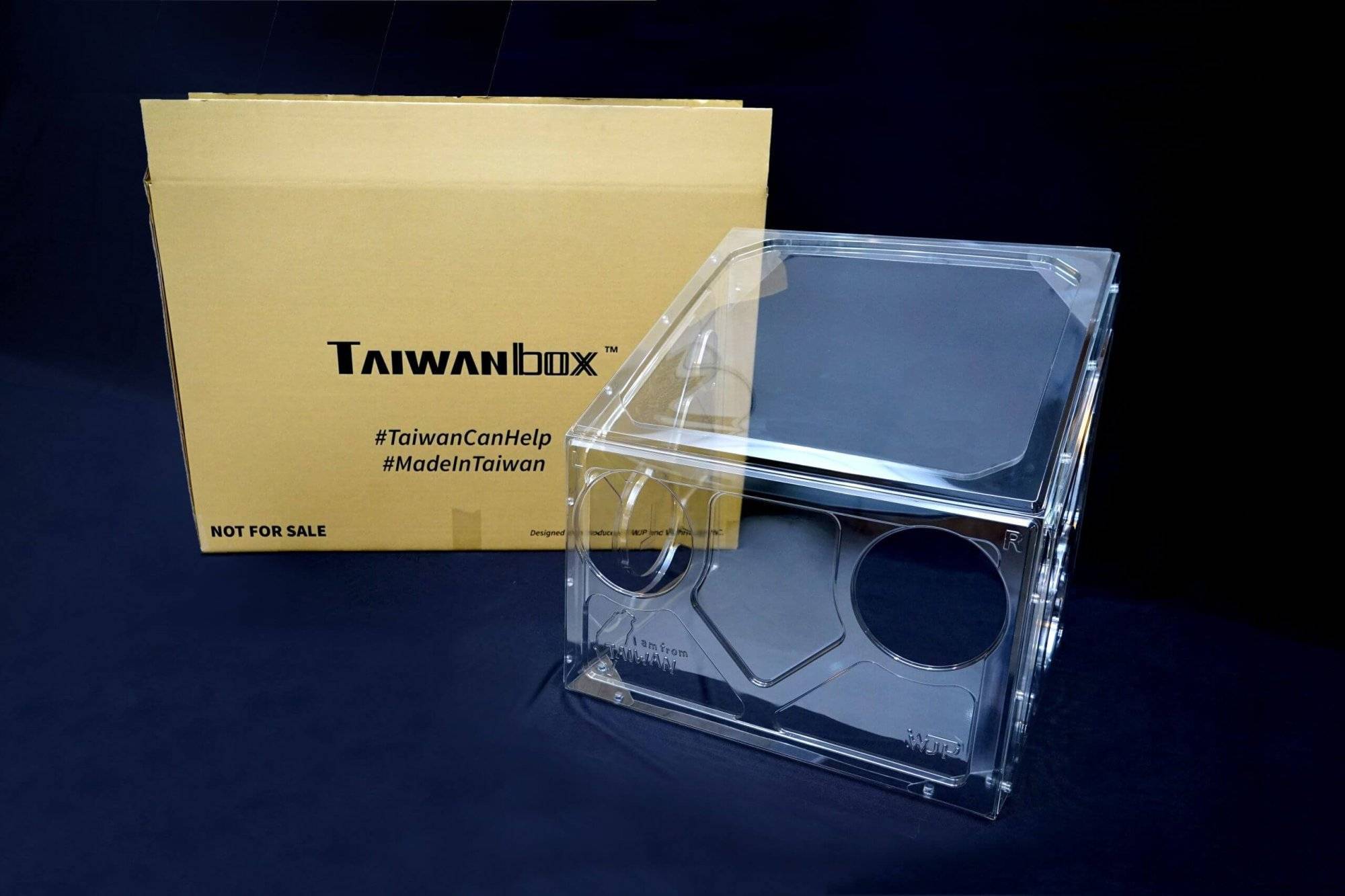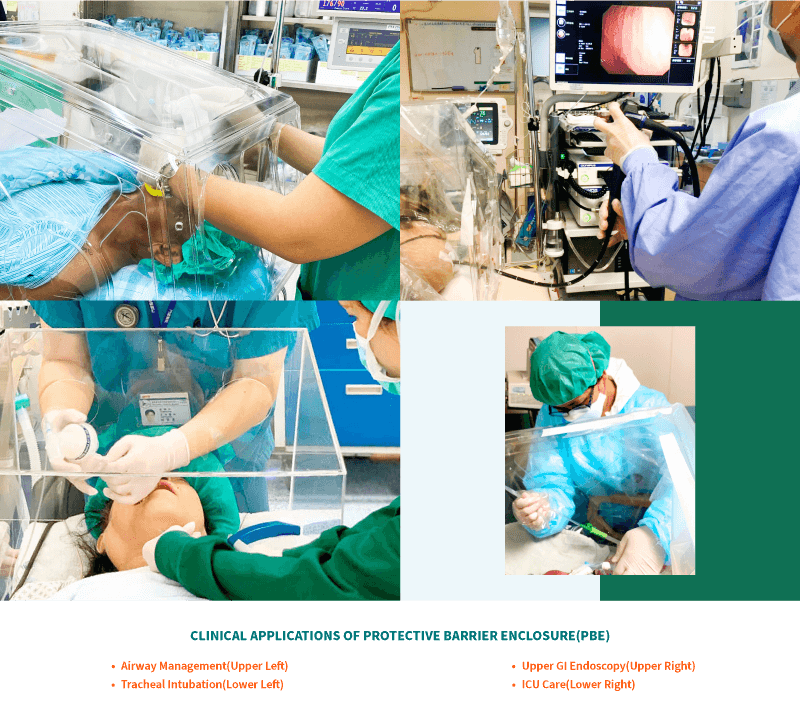 Cost Reduction
How It Had Been Done
With Dr. Lai's open and unselfish spirit, AEROBOX design were shared online to encourage local made to match the needs. Dr. Chiu and Dr. Huang followed Dr. Lai's step and start to work to improve AEROBOX to make it more affordable, better designed and became truly single-use item.
PIDC(Plastic Industry Development Center) jumped in to offer professional plastic related assistance and invited WJP, the manufacturer pursuit high quality standards to co-operate in developing better version of the AEROBOX.
Within 20 days of hard working, AEROBOX had been designed, manufactured and presented to the public with the advantage in cost, and eventually achieved single-use goal to minimize infection risk.
AEROBOX is also lighter and easy to assemble, pile up design to save Volumetric Weight. AEROBOX is wish to inspire others to join in to provide shield for our love ones and front line healthcare heroes.
(Extracted from https://sites.google.com/view/aerosolbox/home )